Metal Mouth, Cheese Grater, Zipper Lips – these are just some of the many nicknames people with braces often get. Those with the traditional orthodontic device in their teeth can agree that the metal brackets and wires are a hassle. With the aim of receiving a much convenient option to straighten the smile, dentistry introduced Invisalign. It is the number one clear aligner brand that orthodontic patients find more favorable today.
Invisalign is transparent. People may not even notice the tray in the wearer's mouth. With that, this modern teeth straightening device had become extremely popular. Many dental professionals believe in the potential of Invisalign to correct teeth irregularities that compromised the appearance of the person's smile.
Here at Sunny Dental of Wilton Manors, you can avail of our Invisalign Treatment. We are sure to give you the best dental experience that you always deserve. In as little as two weeks, patients can already expect dramatic changes with their teeth. It will only take a year for the whole treatment to finish.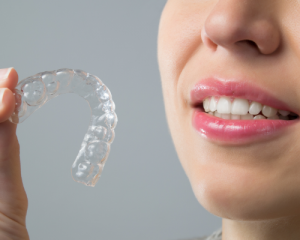 Problems That Invisalign Can Fix
Not quite sure if Invisalign is right for you? Here is the list of teeth imperfections that the orthodontic treatment can mend. Read on below to know if you are a good candidate.
Open Bite
People who used to suck their thumb when they are little are prone to getting an open bite – this is the type of malocclusion where the front teeth do not meet when closing the jaw. An orthodontic treatment like Invisalign is necessary to avoid the development of TMJ, chewing difficulties, and speech impairments in the long run.
Gapped Teeth
Living with widely spaced teeth is a challenge. Aside from poor confidence, gapped teeth are also the cause of some oral problems. The ideal thing to do is invest in Invisalign with us at Sunny Dental of Wilton Manors. The procedure will not just fix gaps, but it will boost your self-esteem and daily oral care routine too!
Overbite
Overjet, or commonly known as an overbite, is another malocclusion that jeopardizes the aesthetic of the smile. The condition is frequently due to genetics and bad habits. Many other sources are known to contribute to this type of bite problem. Nevertheless, Invisalign can aid an overbite.
Invisalign is good at repairing an underbite as well. After all, these irregularities mentioned above are only a few of the many problems clear aligners can correct. You can talk to us at Sunny Dental of Wilton Manors to know more about the treatment.
Bring out your best smile with Invisalign in Wilton Manors, FL, book your appointments with Sunny Dental of Wilton Manors. Visit us to experience an outstanding treatment in making your teeth straighter, beautiful and healthy!