Missing teeth have always been a dilemma for many people. Despite the advances in the field of dentistry, there are still some factors that can result in tooth loss. From injuries, accidents, poor hygiene, inadequate care, infections, or diseases. Thankfully, several procedures have been developed to cater to the specific needs of patients which include teeth restorations.
The go-to treatment for teeth replacement has always been Dentures. Multiple or even the entire missing teeth can be appropriately restored by the procedure to provide better and natural-looking smiles. With the continuous upgrades of dental treatments and services, dentures can now offer better, more durable restorations.
At Wilton Manors Dental, we offer only the best treatments available for the dental care and maintenance of our patients. For those who experience missing teeth, we provide traditional dentures as well as fixed dentures. It is to provide the necessary solutions needed to ensure that our patients' overall health and wellness stays in great shape.
Dentures are removable or a fixed dental appliance that consists of a gum-colored base and pontics (fake teeth) to restore the entire structures that are missing. Traditional partial dentures need the support of other surrounding teeth while the complete dentures are shaped to fit over the top and bottom part of the jaw. Fixed dentures use dental implants that are surgically installed on the patient's jawbone to support the dental appliance to be placed.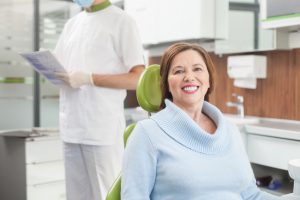 Signs that Indicate the Need for Dentures
Skipping dental visits that are recommended every year for at least two times increases the risks of developing issues. The dental complications begin to take place if teeth infection is untreated and missing teeth left unattended. It may result in severe dental problems and eventually tooth loss.

Tender, red, and bleeding gums are symptoms of gum disease. The condition is usually silent since it may not cause pain or discomfort unless if it has already progressed to the advanced stage. Since the gums support the teeth, once infected it can weaken periodically and eventually cause the teeth to loosen or fall out.

Persistent toothaches that may indicate serious problems that need urgent treatment. While performing self-medications can ease the pain, it does not mean that the source is taken care of. It can be a sign of extensive decay, infected pulp, or other dental complications. Procedures may be available to save the teeth – but late detection may not work anymore, extraction can be the best course of action to prevent it from spreading further.
Getting restorative treatment not only replaces missing teeth, but it also preserves the bone and facial structure of a patient. It works by preventing the healthy teeth from shifting in an attempt to fill in the gaps. By restoring missing teeth with Dentures, it ensures the better appearance, health, and function of the mouth for overall wellness.
Aiming to restore your teeth as natural as it was before? Contact us to know more about Dentures in Wilton Manors, FL, or to schedule your appointment with Wilton Manors Dental. We are conveniently located at 2517 NE 9th Ave, Wilton Manors, FL 33305 for your comfort and convenience.